Hebron High School Varsity Athletic Statistics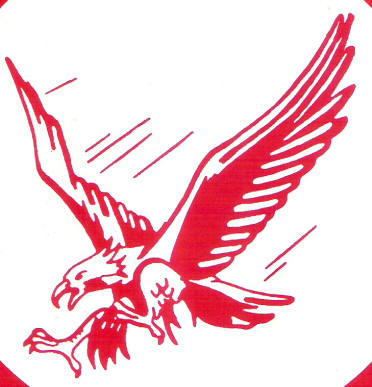 689 SEASONS
5760-5048-69 .530 OVERALL RECORD 2254-1408-7 .614 PCC ROUND ROBIN RECORD
1 SEMI-STATE CHAMPIONSHIP 8 REGIONAL CHAMPIONSHIPS 32 SECTIONAL CHAMPIONSHIPS
113 PCC ROUND ROBIN CHAMPIONSHIPS 48 PCC TOURNEY CHAMPIONSHIPS 41 PCC MEET CHAMPIONSHIPS
6 TEAM SEMI-STATE QUALIFIERS 35 TEAM REGIONAL QUALIFIERS
17 ALL-STATE 5 INDIANA ALL-STARS 1 INDIANA JUNIOR ALL-STAR 1 IHSAA MENTAL ATTITUDE AWARD
5 INDIVIDUAL REGIONAL CHAMPIONS 68 INDIVIDUAL SECTIONAL CHAMPIONS
51 INDIVIDUAL STATE QUALIFIERS 25 INDIVIDUAL SEMI-STATE QUALIFIERS 394 INDIVIDUAL REGIONAL QUALIFIERS
1193 PCC ALL-CONFERENCE SELECTIONS 76 PCC MENTAL ATTITUDE AWARD WINNERS 58 PCC MVP'S 28 GSSC ALL-CONFERENCE
2 INDIANA HIGH SCHOOL BASKETBALL HALL OF FAME INDUCTEES
The purpose of this website is to account for every varsity contest that has been played by Hebron High School. I would also like to list as many athletes, coaches and statistics as possible. The fact that the first contests happened so long ago, makes it hard to find a lot of information for the earliest years of competition. Having said this, every possible source has been or is currently being looked at to find more information. Please don't hesitate to use the contact page with any corrections (big or small) or additional information.
May 29, 1903
The first recorded Hebron High School athletic event, was a baseball game against Valparaiso High School. The game was played at the College Ball Park in Valparaiso on May 29, 1903. Valparaiso won the game 20-11. On June 10, 1903 Valparaiso traveled to Hebron and again won by the score of 10-6.
The following pictures were labeled Hebron High School Athletic Group 1906-07 and Hebron High School Track Team, May 19, 1907. They were furnished by the Hebron Historical Society.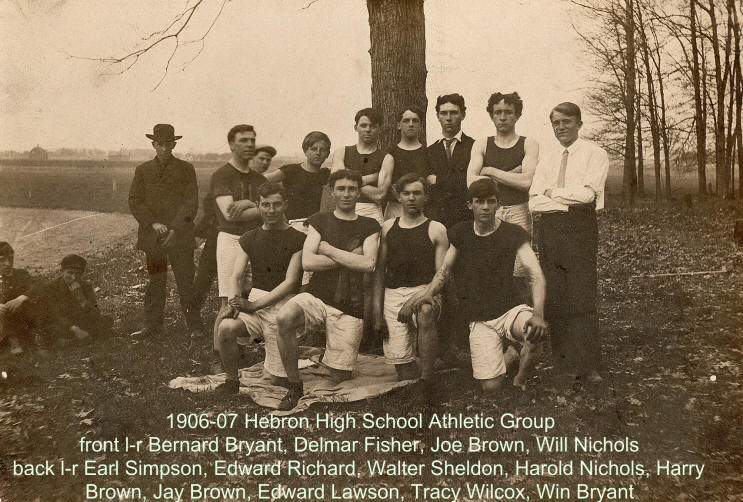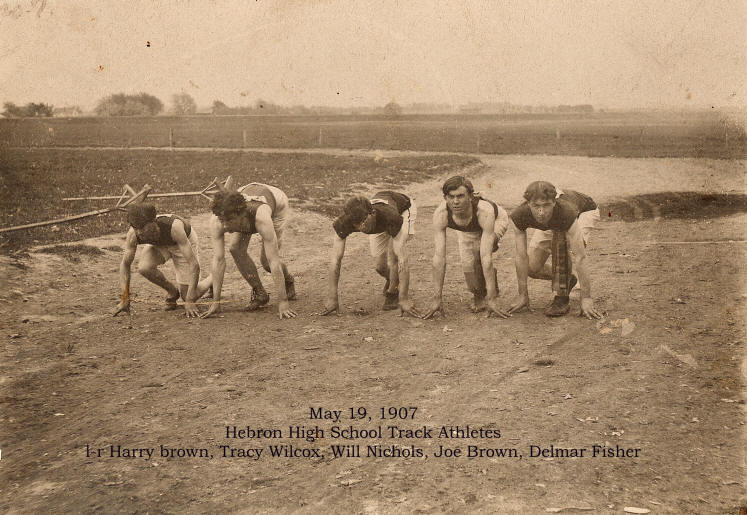 The boys in these pictures were among the first Hebron High School athletes.
Sources for information have been: coaches, Hebron athletic office records, scorebooks, newspapers, yearbooks, Hebron Historical Society, alumni association records, the IHSAA, the PCC, various personal scrapbooks, Rhonda Walker, Sue Spurr, Cheri Birky, Keith Nuest, Jason Wille, Matt Stone and many others. Thanks to all that have helped.
Click on the following entries for a complete history of varsity competition for each sport at Hebron High School.
HEBRON HIGH SCHOOL ATHLETIC HISTORY
Boys cross country Girls cross country
Boys volleyball Girls volleyball
Boys basketball Girls basketball
HEBRON VARSITY ALL-TIME ROSTER
INDIANA ALL-STATE, ALL-STAR AND ACADEMIC ALL-STATE
ALL-TIME PCC ALL-CONFERENCE SELECTIONS
ALL-TIME COACHING RECORDS ALL-TIME RECORDS BY SPORT
ATHLETIC DIRECTORS VARSITY CHEERLEADERS
back to Sandmanstats home click here to go to the Hebron High School website